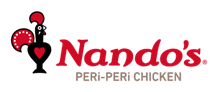 World-Famous South African Chicken Restaurant Brings Its Signature Flame-Grilled Spice and Art-Filled Interiors to Virginia Beach Town Center
COMMUNITY DAY:
Dine at Nando's on Saturday February 18th, and Proceeds Will Be Donated to Princess Anne High School and its Student Leaders
VIRGINIA BEACH, VA, February 16, 2023 – Nando's PERi-PERi, the beloved South African restaurant brand recognized around the world for its spicy flame-grilled chicken, hatches in Virginia Beach on Thursday February 16th. The restaurant, in the Virginia Beach Town Center, marks Nando's first restaurant in the Hampton Roads region.
"We can't wait to bring our mouth-watering chicken to Virginia Beach residents," said John Fisher, CEO of Nando's PERi-PERi. "PERi-PERi – or African Bird's Eye Chilli – is the heart and soul of the Nando's experience. We marinate our chicken in PERi-PERi for at least 24-hours, so the flavor goes right through to the bone. Then we grill it over an open flame and baste it with PERi-PERi sauce to the customer's preferred spice level. That's what makes our chicken so addictive."
The company's journey from the tip of Africa to the beaches of Virginia–an adventure which began 35 years ago with a single location in Johannesburg–now spans 24 nations from Australia to Zimbabwe. Landing stateside in 2008 with its inaugural US restaurant in Washington, DC, the brand has since expanded to nearly 50 sites in DC, Virginia, Maryland, Chicago, and soon in Texas.
Nando's flagship Virginia Beach location opens in a prime site in the Town Center near the Sandler Center for the Performing Arts. The restaurant features original, contemporary South African art and furniture. The 3,050-square-foot Nando's will offer dine-in seating for nearly 100 customers, a spacious outdoor patio, and convenient take-out service and parking. Hours are 10:30am to 10pm from Sunday to Thursday, and 10:30am to 11pm on Friday and Saturday.
Community Day with Princess Anne High School
On Saturday February 18th, buy a meal at Nando's and proceeds will be donated to student activities at nearby Princess Anne High School. Throughout the day, proceeds (minus tax and alcohol sales) will be donated directly to the school's Student Leadership Workshop, an annual event for volunteer student delegates to learn and share leadership skills. "Come and grab a meal at Nando's, either dine-in or takeout, and help support our students' extracurricular activities," said Todd Tarkenton, the Principal of Princess Anne High School. "We thank Nando's for their generosity and welcome them to the neighborhood!"
WHAT:          Nando's Opening in Virginia Beach Town Center
WHERE:        Nando's, 221 Central Park Ave., Virginia Beach, VA 23462
WHEN:          Thursday February 16th, 2023
About Nando's PERi-PERi
After making its 1987 debut in Johannesburg, South Africa, Nando's has spread its flame to legions of fans in 24 countries on five continents who can't resist the allure of succulent PERi-PERi chicken that's been marinated for 24 hours, flame-grilled to perfection, and basted to customers' preferred flavor and spice. The restaurant is equally renowned for its spicy PERi-PERi – the Bird's Eye Chilli Pepper that indigenous Africans introduced to the Portuguese centuries ago.
Nando's PERi-PERi entered the US market in 2008 with the opening of its first location in Washington, D.C., and now operates nearly 50 restaurants in and around Virginia, Maryland, Washington, and Chicago. Coming soon: Houston and Dallas!
For more information, visit www.nandosperiperi.com
Media Contact
Jim Popkin, Seven Oaks Media Group
jim@sevenoaksmedia.com
(202) 253-7959